Services start at 9 a.m. and consist of prayer, worship through music, and a message from God's word that draws us closer to Him and offers encouragement as we apply Biblical principles to our daily lives. If this is your first time here, please visit our Welcome Center in the foyer. Our volunteers will be happy to help you figure out where to go and give you some information on our programs and services. After the service, which lasts about an hour, join us for a time of fellowship with coffee and snacks before Sunday School classes begin at 10:30 a.m. Services are also broadcast live on Facebook, YouTube and here on our website.
We also have small groups, Bible studies, and youth/teen programs throughout the week, and several other outreach ministries that might interest you.
If you have children with you:
Our nursery is staffed every Sunday, so arrive a little early to meet our volunteers and get your child settled in for the morning. A "junior church" service is held in our Family Life Center directly across the foyer from the sanctuary. The service is geared toward children in first through third grade, but children from three years old through sixth grade are welcome to attend. The children's church service starts at 9 a.m. Children are, of course, always welcome to join you in the sanctuary for the regular service.
We offer Sunday School classes at 10:30 a.m. for all age ranges, and all of our youth ministry volunteers have background clearances on file.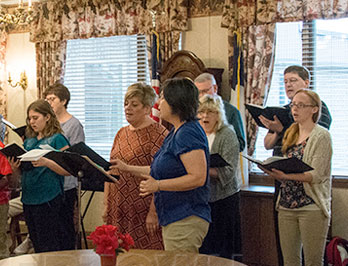 What to wear?
Come as you are – your jeans and t-shirts are as welcome here as your "Sunday best." Just know that you are welcome here, just as you are. We can't wait to meet you!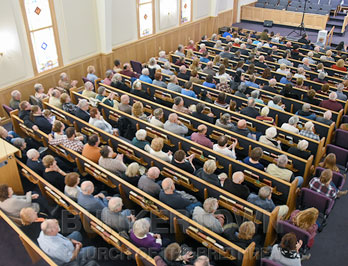 What to bring
Bring your questions, your ideas, your doubts and fears, and a seeker's heart. We have everything else you need, but let us know if you have any questions.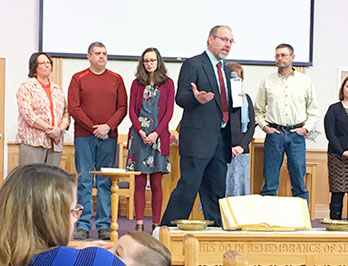 What else should I know?
We are a praying church, and we are deeply invested in bringing your needs before our Father's throne. We have a prayer room in the church that you are welcome to visit, and our members participate in a 24-hour prayer vigil every month.
Our Core Beliefs:
Revelation of God
We believe God exists and has sufficiently revealed himself. He spoke through the prophets and apostles and finally revealed himself through His Son. The Holy Scriptures are the record of His disclosure, as well as the record of the life and teachings of Jesus Christ.
Ecclesiastes 3:11; Psalm 19:1-4; John 1:9; Acts 14:17; Romans 1:23-25; Hebrews 1:2
Authority of Scripture
We believe the Bible was fully inspired by God, given without error, and is our final authority for faith and practice. God superintended the human authors so that what they composed and recorded are an accurate reflection of His revelation of truth. The authority of Scripture is based upon the fact that the Scriptures are the Word of God.
Psalm 12:6; 18:30; 19:7; 119:140; Proverbs 30:5; Matthew 5:18; John 17:17; 2 Timothy 3:16; 2 Peter 1:21
Sufficiency of Scripture
When the Scriptures are accurately understood, interpreted and applied, with the illumination of the Holy Spirit, as well as careful study and discernment, they are completely sufficient for the believer's direction in Christian living. The Bible is of such complete sufficiency that whatever is not contained in its pages is not to be considered essential to the faith of practice of any believer.
1 Corinthians 2:10-14; Jude 3; Revelation 22:18-19
The Trinity
We believe the Bible teaches that there is one God, who exists as three persons: Father, Son, and Holy Spirit. God has always existed and is the creator of all things. He is self-existent, infinite, eternal, and unchanging. He is sovereign, everywhere present, all knowing, almighty, and absolutely perfect. He is the source of all truth, love, goodness, grace, and holiness.
Genesis 1:26; 3:22; 11:5-7; Deuteronomy 6:4; Isaiah 6:3; Matthew 2:16-17; 28:19; John 14: 16-17; 1 Corinthians 12:4-6; 2 Corinthians 12:14; Ephesians 4:4-6; 1 Peter 1:2; 3:18; 5:4-7
Deity and Humanity of Christ
We believe the Bible teaches that Jesus Christ, who is eternally one with the Father, entered this world in a human body. He was conceived by the Holy Spirit and born of the virgin Mary. He was fully God and fully man. He lived a sinless life, died on the cross, rose from the dead, and ascended into heaven where he sits at the right hand of the Father. Thus, His kingdom has been established. 
Matthew 1:23; 3:3; 4:2; Luke 2:52; John 1:1; 4:6 8:58; 19:28; Acts 10:36; Romans 9:5; 10:13; 1 Timothy 2:5; Titus 2:13; Hebrews 1:8; 2:14-18; 4:15-16; 1 John 5:20; Revelation 1:8
The Holy Spirit
We believe the Bible teaches that the Holy Spirit is the third person of the Trinity. We emphasize that the Holy Spirit is a person, not merely a power. He convicts the world of sin. He brings spiritual life and assurance to believers. He produces the fruit of salvation in our lives and gives spiritual gifts to build up the Church. However, since the Spirit divides the gifts according to His will, no single gift can be required for all believers. The true evidence of the Holy Spirit in one's life is holy living.
Ezekiel 36:26-27; John 3:5-8; 16:8-11; Acts 5:3-4; Romans 8:9; 8:16; 12:4-11; Galatians 4:6; 5:19-23; Titus 3:5
Original Sin
We believe the Bible teaches that we are created in God's image, but we have fallen into a state of sin through Adam's original sin. We are corrupt and cannot save ourselves. Jesus Christ is our only salvation. This salvation comes by God's grace through our faith in the atoning work of Christ as our only sacrifice for sin.
Psalm 51:5; Jeremiah 17:9; Matthew 7:11; Romans 3:10-18; 5:12-19; Ephesians 2:3; 4:22; James 4:1-2; 2 Peter 1:4
Atonement
We believe the Bible teaches that the atonement of Christ demonstrates the love of God and turns away the wrath of God against our sin. Thus, the atoning work of Christ satisfies the justice of God's law, reconciles us with God, provides for full restoration from the Fall, and gives us victory over Satan. This atonement is universal in provision, but is effectual only for those who believe.
Isaiah 53:5; Matthew 20:28; John 1:29: 3:16; Romans 5:6-8, 17-21; 1 Corinthians 7:23; 2 Corinthians 5:14-21; 1 Timothy 2:6; Titus 2:11; Hebrews 2:9; 2 Peter 3:9; 1 John 2:2
Grace
We believe the Bible teaches that God makes the first move in bringing this salvation to us. The Gospel call is the drawing of the Spirit. His preliminary grace awakens the sinner and enables us to repent and believe. Yet this grace is not irresistible. We must repent and believe on the Lord Jesus Christ. This saving faith is the gift of God given to those who genuinely repent.
John 1:9-13; 6:44; 12:32; 16:8-11; Acts 8:16; 9:4-18; 10:35; 11:18; 13:43; 18:10; 19:3-4; 22:16; 18:24-6; Acts 16:14-16; Romans 2:4; 2 Corinthians 6:1-2; Ephesians 2:8; 2 Timothy 2:25; Titus 2:11
Salvation and Security
We believe the Bible teaches we must be born again. The new birth brings forgiveness and regeneration to a new life with freedom from the practice of willful sin. It also brings adoption as a child of God and the life of holiness is begun. As we walk in the Spirit, we have security is Christ. This security of the believer is conditioned upon a maintained obedient faith.
John 3:3-5; 5:25; Romans 5:1; 8:1; 8:15-17; 1 Corinthians 6:11; 2 Corinthians 5:17; Galatians 4:7; Ephesians 2:1; Titus 3:5; 1 Peter 1:23; 2 Peter 1:4; 1 John 3:9; 5:1; Ezekiel 18:24-26; 33:12-18; John 8:31; 15:6; 1 Corinthians 15:2; 1 Timothy 4:1, 15-16; 2 Timothy 2:12; Hebrews 6:4-6; 10:26-29; James 5:19-20; 2 Peter 1:10-11; 2:20-22; Revelation 2:11; 3:5
The Church
We believe the Bible teaches that at the new birth all believers are adopted into the family of God, which is the body of Christ or the Church. The Church is not a particular denomination, but the entire body of believers in Jesus Christ. It exists wherever faithful believers congregate, the Word of God is proclaimed, and the sacraments are administered. The Church exists to glorify God through worship, evangelism, discipleship, service, fellowship, social responsibility, and through expanding the Kingdom of Christ throughout the world. The Bible teaches that we should observe the sacraments of baptism and communion, as outward and visible signs of God's inward grace.
Matthew 5:13-16; 6:10; 28:19; John 4:23; 17:21; Acts 2:42, 47; Romans 14:19; 1 Corinthians 3:10-11; 11:2, 24-26; Ephesians 3:4-6; 4:4, 16; Hebrews 10:24-25
Sanctification
We believe the Bible teaches that obedient believers will become increasingly convicted of the nature of sin still remaining in them. As they walk in the Spirit, they will be led to a full cleansing from the inner nature of sin and filled with a holy love toward God and our neighbor through the sanctifying work of the Holy Spirit. We believe the Bible promises this perfecting grace, which is also called entire sanctification or Christian perfection. Entire sanctification is commanded, prayed for, and exemplified in the New Testament. Sanctification is provided for by the atoning work of Jesus Christ through the presence of the Holy Spirit. l
Deuteronomy 30:6; Psalm 130:8; Ezekiel 36:25; 2 Cor. 7:1; 1 John 3:8; Ephesians 5:25-27; Romans 8:3-4, Matthew 5:48; 22:37; 1 Peter 1:16; Philippians 3:15; 1 John 4:17; Matthew 6:13; John 17:20-23; 2 Corinthians 13:9, 11; Ephesians 3:14-21; Philippians 1:4-6, 9-11; Colossians 4:12; 1 Thessalonians 5:23; Hebrews 13:20-1; 1 Peter 5:10-11
Last Things
We believe that the kingdom of Christ was established at the time of Christ's first advent and that he will cause His kingdom to so come to earth that His will shall be done on earth as it is in heaven. While no man knows the day or the hour of His return, we believe that Christ will return a second time to catch away the Church, to raise all who are dead, and to judge the whole world. He will be revealed in His glory, bring the work of salvation to completion, and establish a new heaven and earth. There is an eternal heaven to gain and an eternal hell to avoid.
Mark 9:1; Luke 9:27; 17:20-21; John 16:16; Matthew 6:10; Psalm 22:27-31; 72; 86:9; 110:1; Isaiah 2:2-4; 9:6-7; 11:6-9; 25:7-8; 66:23; Jeremiah 31:34; Ezekiel 47:1-12; Micah 4:1-5; Habakkuk 2:14; Matthew 24:36; 1 Thessalonians 4:16-18; Daniel 12:2; John 5:28-29; 1 Corinthians 15:42-44; Revelation 20:12-13; Acts 17:31; 1 Corinthians 4:5; Revelation 22:12; Romans 14:10-12; 2 Corinthians 5:10; 2 Thessalonians 2:8; Hebrews 9:28; John 14:2-3; 1 John 3:2; Revelation 7:14-17; 22:3; Matthew 8:12; 25:30-46; Mark 9:42-48; Luke 16:19-31; 2 Thessalonians 1:7-10